Open Planning
Open Planning enables a fair, accessible and democratic public planning process between Liverpool's council and constituents.
The Challenge
Currently, local government bodies and councils inform the public about planning permission requests using two methods: either by securing an A4 notice to a nearby lamppost, or on the building site of the proposed project.
This was problematic for a number of reasons. First of all, anyone who has the chance to read the sign then has 21 days to respond to the council. Secondly, few people realise that these signs are a call to action - those who do endure a slow, complicated process to comment or object, never truly sure if their opinions are being heard.
With this in mind, we set ourselves a new aim: to clarify communication between councils and citizens, empowering individuals and giving them a voice.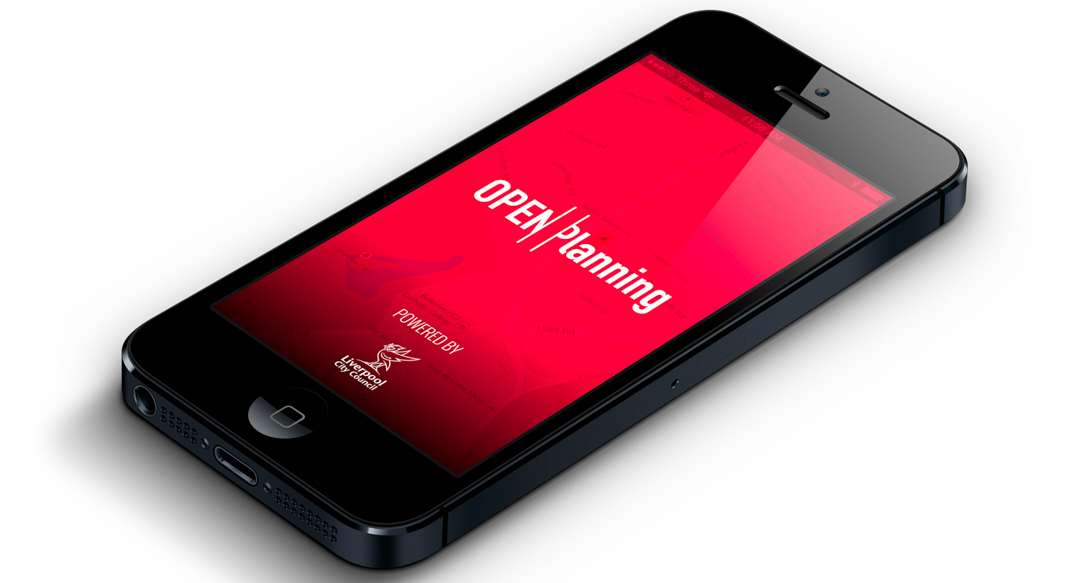 Listening
When the Open Data White Paper was released in 2012, the purpose of the scheme was to unleash the potential of data. Creating communication points between civilians, business and academia, the Open Data White Paper scheme was keen to explore innovative measures for public use. After all, we already use open data apps day to day in modern cities; why not use it for bigger ideas and decisions?
Open Planning began as a conversation at The Creative Exchange Lab, where experts from the industry gathered to co-create a new model for the city planning process. We wanted to bring planning permission systems into the digital age and explored how this could be done in the form of a mobile application.
It was time to think.
There was a flawed process within the local government. We worked with a design team, we fixed the process. The excitement about what we are doing and the level of self-examination that's informed our process - you can't bring that out in a shiny meeting room in the House of Commons.
Thinking
Engage Liverpool put us in touch with our co-creators, a diverse group of individuals from Liverpool city centre and the surrounding areas. The co-creation workshops included people of different ages and backgrounds, as we felt that the final product needed to be accessible and useful for everyone.
In the first workshop, our co-creators expressed two key themes: first of all, that no matter where they lived, they cared about developments within Liverpool's iconic areas. Secondly, that they also wanted to be involved in discussions about making the area better. For example, what was actually going to be built? How would it affect the area?
We devised a commenting system for the app that would go directly to the councils and planners, allowing people to interact via comments on planning proposals, view planning documents, ask questions or leave private messages for developers. This would help developers too, giving them a chance to receive feedback for their work.
I think Red Ninja's open exploratory way of thinking really connected with us… it was that sort of conditioning, working together, and working as part of a collaborative team
Cities are made of brick and mortar; there are physical structures, but equally, they are social, economic and cultural meter systems. We need to make sure that these systems flow so that in the future they are open source, transparent and engaging.
Doing
Partnering with Liverpool City Council for the app development, we created technology that allowed us to data scrape the information we needed from multiple sources online to create our own API (Application Program Interface). Our program takes the data and breaks it down so that people can see planning requests in their city in real time. Adding a spatial reference that can be displayed on a map, users can then search for an address, or circle their areas of interest to see all of the relevant applications in that area.
Open Planning reconnected citizens in their everyday lives, creating a more engaging and transparent planning system. As we improved our own knowledge, we created transferable technology that opened up further innovations. The data scraping technique that we created has since been used by a top 6 energy supplier to create an energy saving app.
The Open Planning app has been presented to the House of Commons as a best practice in Open Data innovation and collaboration. Our relationship with academia has enabled us to further collaborate with this sector and resulted in continued work with Imagination Lancaster and Lancaster University. We are working with them to develop the next phase of the app, expanding and deploying Open Planning to cities beyond Liverpool.