In Hand
In Hand is a simple, beautiful and accessible app, designed by and for young people, to help self-manage mental health and wellbeing.
The Challenge
More than one in ten young people feel unable to leave the house due to anxiety issues, while one in five admits to falling apart emotionally on a regular basis. More than a third often feel anxious about everyday situations and these figures rise considerably for young people who do not have a job and who are not in education.
In 2011, Innovation Labs hosted a hack day, a series of Innovation labs and an incubator to gather ideas on how technology could be used to solve this problem. Over 100 ideas were generated and 7 made it to the final stage, one of which was our In Hand project.
Listening
The In Hand co-creation process ran fortnightly sessions over a year, engaging over 20 young people who responded to an open call on social media to get involved. The young people involved were all meeting mental health challenges including depression, post-traumatic stress disorder, anxiety, self-harm and eating disorders.
By thinking about perceptions and portrayals of mental health in the media, we agreed on a strategy for the app that would focus both on mental health and positive well being. We were very conscious to not include a mention of mental health in the title of the app to avoid any stigma, and wanted users to think of it as something that could be used by anyone, both in moments of crisis and happiness.
Red Ninja brought a natural empathy and was able to sit down with young people - and the young people liked them. They brought insight and self-awareness, they were never patronising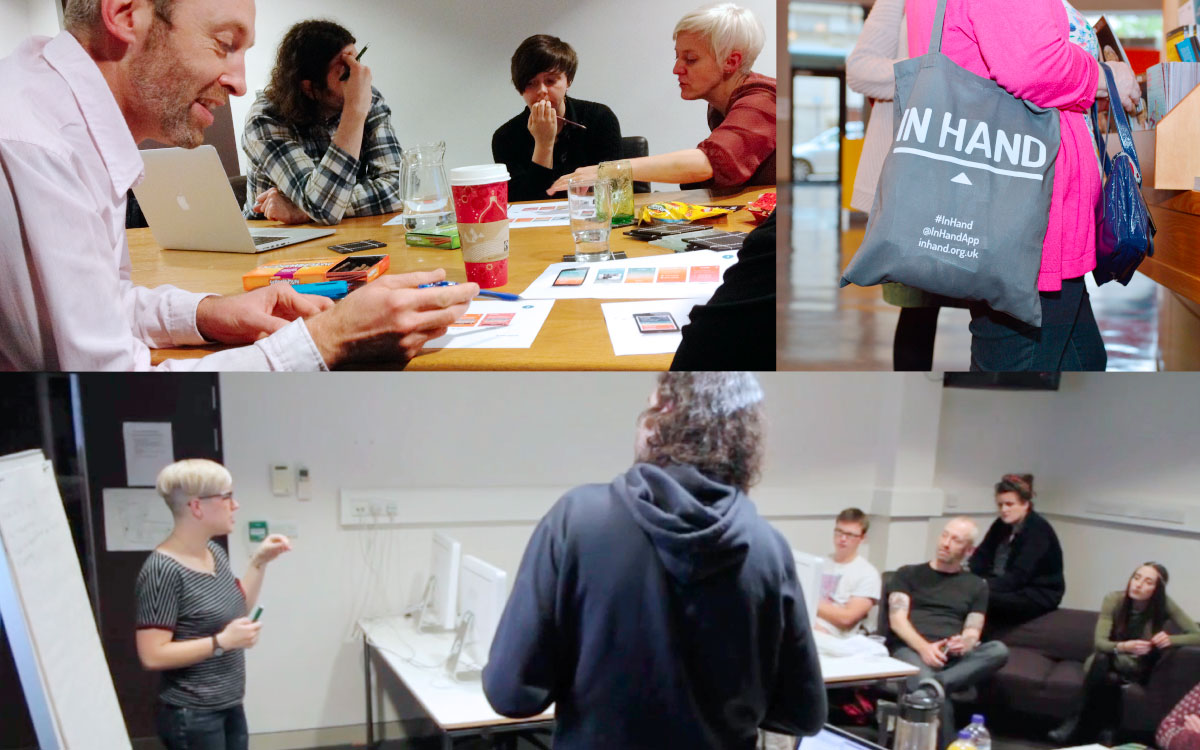 Thinking
We drew on the personal experiences of our co-creators to design a mental health app that they would want to use, and something that they thought would be helpful to them. Because of this, content for the app draws on Five Ways to Wellbeing, emotional literacy, some principles of Cognitive Behavioural Therapy and the knowledge gathered from our young people's personal coping strategies.
Adam Fowler was one of the young people who co-created In Hand, he told us: "In Hand makes a huge difference, especially when you've got no-one to turn to, the app's just there. It helps me to take my mind off things and fight on. I know what it feels like, I'm helping other people like me by sharing my experience. I believe I've made a difference. Every time I see the number of downloads, ratings or reviews of the app, I feel like we've done such a good job. I'm into mobile tech and would give In Hand five stars. It's a really good app, someone you can just turn to when you need to keep motivated."
We were a proper team, a real collaboration, it wasn't like we were the staff and the young people were the participants - we all respected each other's experience and expertise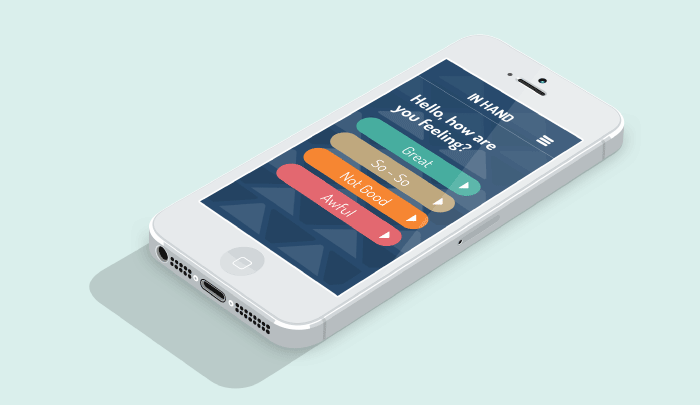 As a funder, we learned that digital is hugely important for the people we want to help. Everyone involved was touched in some way; it unlocked capacity and made everybody think. This was a great example of funders working together and it evolved our thinking about how we help the third sector to do digital better
Doing
The young people involved took decisions throughout the development process, agreeing app on design, wireframes, language choices, interfaces and colourways.
The resulting app is fully customisable and includes music, motivational messages, inspiring images and photography. In Hand responds to how the user is feeling: Great, So-So, Not Good or Awful. Options range from Do Something That Makes You Smile, where a user can share a photograph or listen to music, through to Someone To Call, which includes a crisis link to The Samaritans helpline embedded within the app.
The young people involved in the project also developed its branding, marketing plan and launch. Louise Latter, FACT's Young People and Learning Manager, told us: "We made it, we made the app and the launch went really well. Young people led it, they presented it and there was a real buzz around it. Since then, it's been amazing, it's been downloaded three times more than we expected."