Helping Hand
Created by and for people who are older, our age-friendly Helping Hand apps and easy-to-use, customised tablet interface are helping people who are older to love online shopping and feel better connected.
The Challenge
Our society is getting older and lonelier. Research by Age UK 1 reveals that over one million people who are older in the UK feel lonely and socially isolated. Mobile technology can make things better, research by the Nominet Trust 2 shows that people who are older and who regularly use the Internet feel less isolated and more in control of their lives.
Digital exclusion is now a social care issue, compounded by reduced spending and increased pressure to help people live independently for longer. Red Ninja Studios had taken part in the UK's first Adult Social Care Hack Day, where loneliness was identified as a big problem for people who are older and living in our communities.
Through the Friendly Economy innovation programme, Liverpool City Council's Adult Social Care commissioners and Liverpool City Region Local Enterprise Partnership set us a challenge. How could we get people who are older in the North Liverpool neighbourhoods of Anfield, Walton and Kirkdale better connected to digital services, including online shopping?
Our approach is always to begin where our users are, so we started by listening.
Listening
We created our age-friendly Helping Hand mobile apps and easy-to-use, customised tablet interface by listening to what people who are older want and need, what they find frustrating and what would motivate them to get online.
We gathered ideas from over 350 people who are older to co-create Helping Hand, running co-creation workshops with our partners at Plus Dane Group. As a local housing provider, Plus Dane Group had strong relationships with many of the people taking part, which really helped us to get things going and build trust.
Our co-creators told us that they were interested in shopping online. They told us that because of health and mobility issues they sometimes found it difficult to get out and about, and to carry heavy shopping home. Home delivery would be great when the weather was bad and staying at home was more appealing than a trip to the supermarket.
But, we also learned that most of this group had never shopped online. They were concerned about privacy and security, and about their own ability to use the technology. They were afraid of signing up to something that would then cost money, and many didn't have a computer or an Internet connection. There was a general fear about knowing what to do. They asked us to keep things simple and be patient, and as the project developed their confidence grew.
I've been a little bit frightened of the computers - of making a fool of myself, taking too much time. But this thing's simple. It's easy to do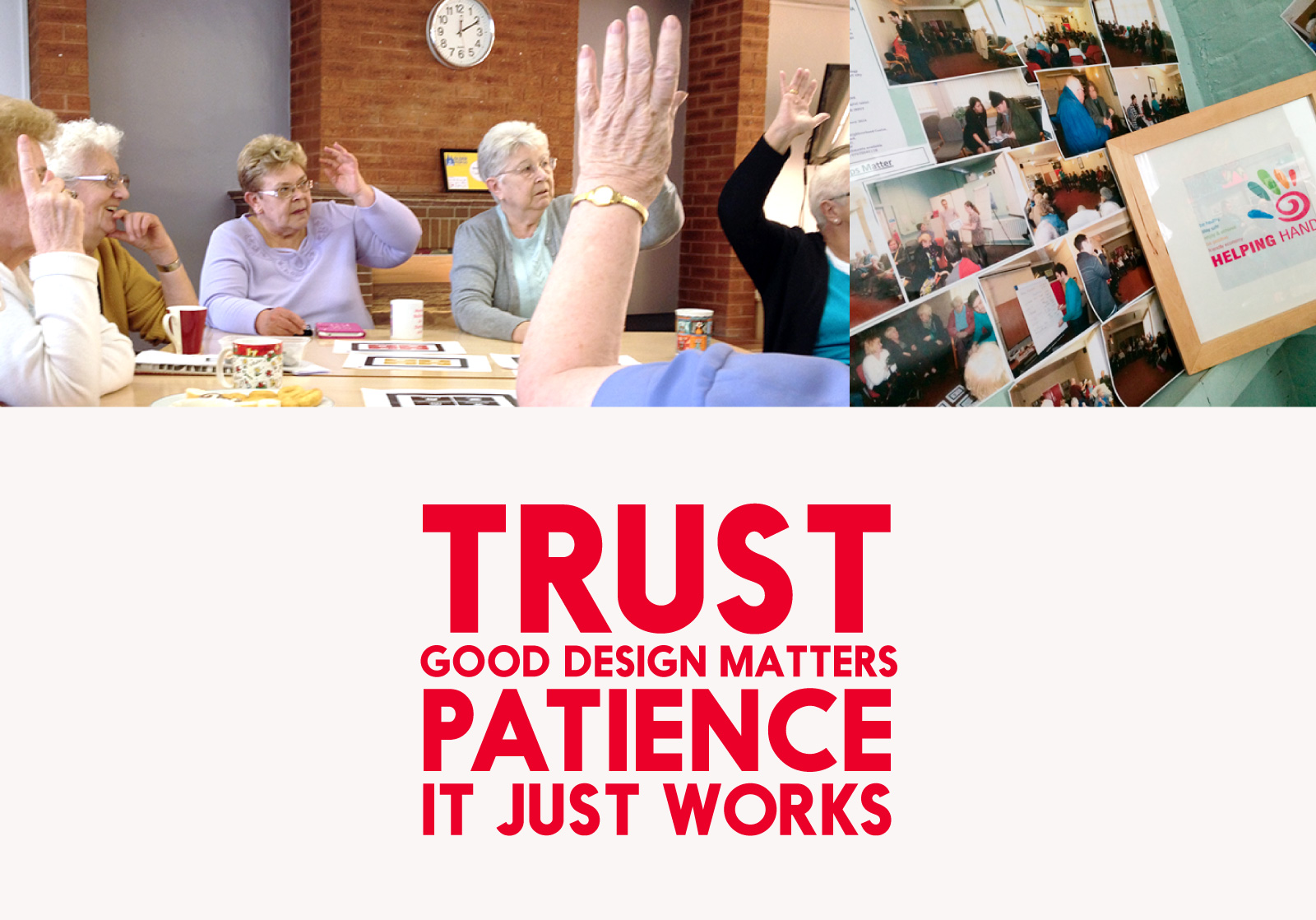 Thinking
Through our design thinking approach, we bring our co-creators on the full design journey. We needed to find a way to engage people who are older with online services that already existed, but which they found tricky to navigate. We needed to build services they would trust and use, so that we could make things better for their lives.
We used everything we'd learned by listening to refine our design challenge. We were going to build a shopping application that connected directly to a major supermarket through a user-friendly interface. Our co-creators told us that they loved a bargain, so our app would include all the features of the retailer's online service, including the ability to search for deals. We were also going to build a social calendar app, which would help people to find out about events in their community, to get involved and make new social connections.
We held workshops about colour theory, typography, language and user experience. We shared examples of other websites, discussing what the group liked and didn't. Our co-creators loved this process and really got into the technology. They made design choices for a large font, big buttons, highly visible colour contrasts and clear instructions.
So, to be able to get different sections of your shopping in the actual shop by just touching the screen...I was surprised by how quick and easy it was. And I mean, that's because they asked you wasn't it? They asked you. They asked you - what do you want and how would you do this?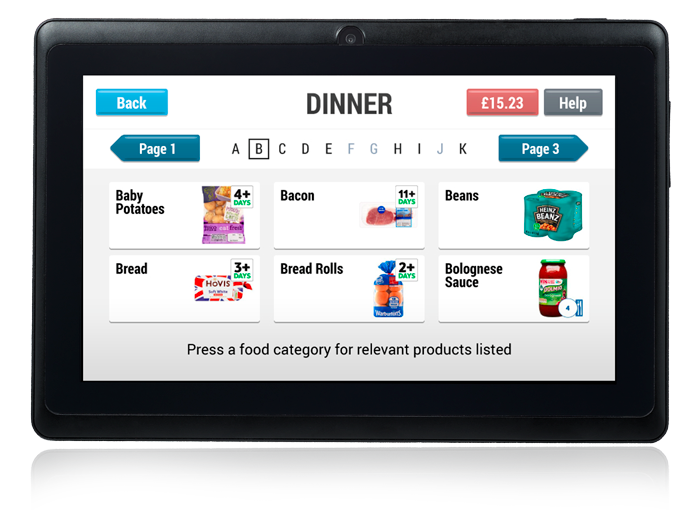 I can't speak for everybody else, but when this came along I started feeling as though I belonged to the community...that I am a human being.
Doing
We experimented, building rapid prototypes and sharing them for feedback. With our co-creators, we worked through the look, feel and user experience and developed working prototypes, which we then sent out into the community for testing.
Our pilot programme ran for 12 weeks from September 2014 and was evaluated by Dr Paul Hepburn from The Heseltine Institute, University of Liverpool. Pilot testers each received a tablet pre-loaded with an easy-to-use, customised interface and both apps. We also provided free Internet access for the trial period. Training and support was delivered by our in-house team working with Plus Dane Group and Barclays Digital Eagles.
Throughout the pilot, users told us about their experiences and feelings, how easy or challenging they found things, and about any problems they experienced with the technology.
By using a design thinking approach, we sparked innovation and created social impact. Our co-creators reported increased feelings of trust, community, and independence from taking part in the project. We loved that some of our co-creators made new friends through the process - people who lived in the same building, but who had never met before the workshops.
Our co-creators have already told us they'd like to see social networking, online dating and chat features included in future roll-outs.
What did we learn?
Build trust through existing relationships and by listening
Be patient and keep things simple
Design thinking sparks innovation and creates social impact
No matter what age you are, good design matters